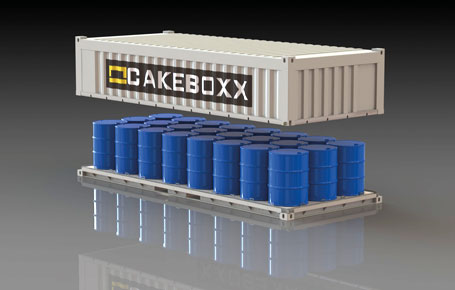 The ShortBoxx is a half-height CakeBoxx.
ShortBoxxes are ideal for shipping high gross weight and low cubic volume loads as well as long cargoes (pipe, I-beams) that can not be end-loaded in standard doored containers, items that cannot be stacked two-high (such as petroleum barrels) and liquids and granular cargos that would otherwise require single-purpose tanker trucks and trailers.

Structurally, the ShortBoxx is the same as the regular CakeBoxx: the bottom deck is identical. At 4'3'', the lid is just half the normal height of a 8'6'' container. The ShortBoxx is also available with folding interior walls and a self-healing, puncture-resistant 10,000 gallon bladder that enables liquid cargos to be shipped in box containers.